TEAM UWC POSTERS * GEAR * SWAG
---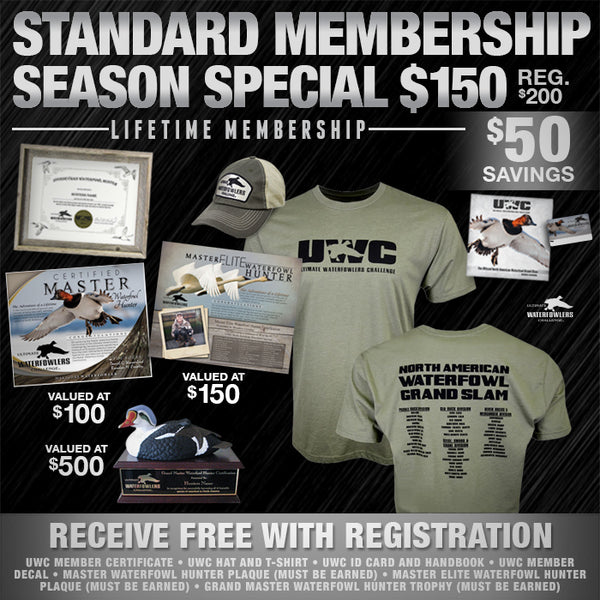 What is the Ultimate Waterfowlers Challenge?
The Ultimate Waterfowlers Challenge is as an organized system for the avid waterfowler to track and document every species of waterfowl they harvest in an attempt to accomplish achieving The North American Waterfowl Grand Slam!

The goal is for each and every UWC Member to harvest all 41 species of waterfowl that inhabit then lands and waters of North America. Along the way each member will achieve certain benchmarks and will receive plaques and trophies for their accomplishments.




There are three certification levels along the way to completing the North American Waterfowl Grand Slam:
1. THE MASTER WATERFOWL HUNTER CERTIFICATION AT 15 CERTIFIED BIRDS (INCLUDES A 14" X 17" WALL PLAQUE VALUED AT $100)

2. THE MASTER ELITE WATERFOWL HUNTER CERTIFICATION AT 30 CERTIFIED BIRDS (INCLUDES A 14" X 17" CUSTOM WALL PLAQUE VALUED AT $150)

3. THE GRAND MASTER WATERFOWL HUNTER CERTIFICATION AT 41 CERTIFIED BIRDS (INCLUDES THE GRAND PRIZE KING EIDER TROPHY VALUED AT $550)

There are two ways to join the UWC Challenge:

Standard Lifetime Membership – Sale Price $150 (Normally $200)
Includes: UWC Hat and T-shirt, UWC Member Certificate, Member Handbook and Waterfowl Hunter ID card. (Note: each waterfowl species registration is $5.00 per bird, to help cover the cost of the plaques and trophies.) Click here for more details

Gold Lifetime Membership – Sale Price $499 (Normally $599)
Includes: Everything listed in the Standard Membership, as well as all waterfowl species submissions for life, a custom UWC Waterfowl Parka, and a laminated UWC Waterfowl ID poster. Click here for more details